This fan art submission comes to us from Lily Jurgens-Fyhrie! You may recall that Lily's sister Gia sent us one of her comics a few months ago too. Both girls already have a great way of setting up panels and action! I think these sisters should be a cartooning team and write a strip together when they grow up, what do you think?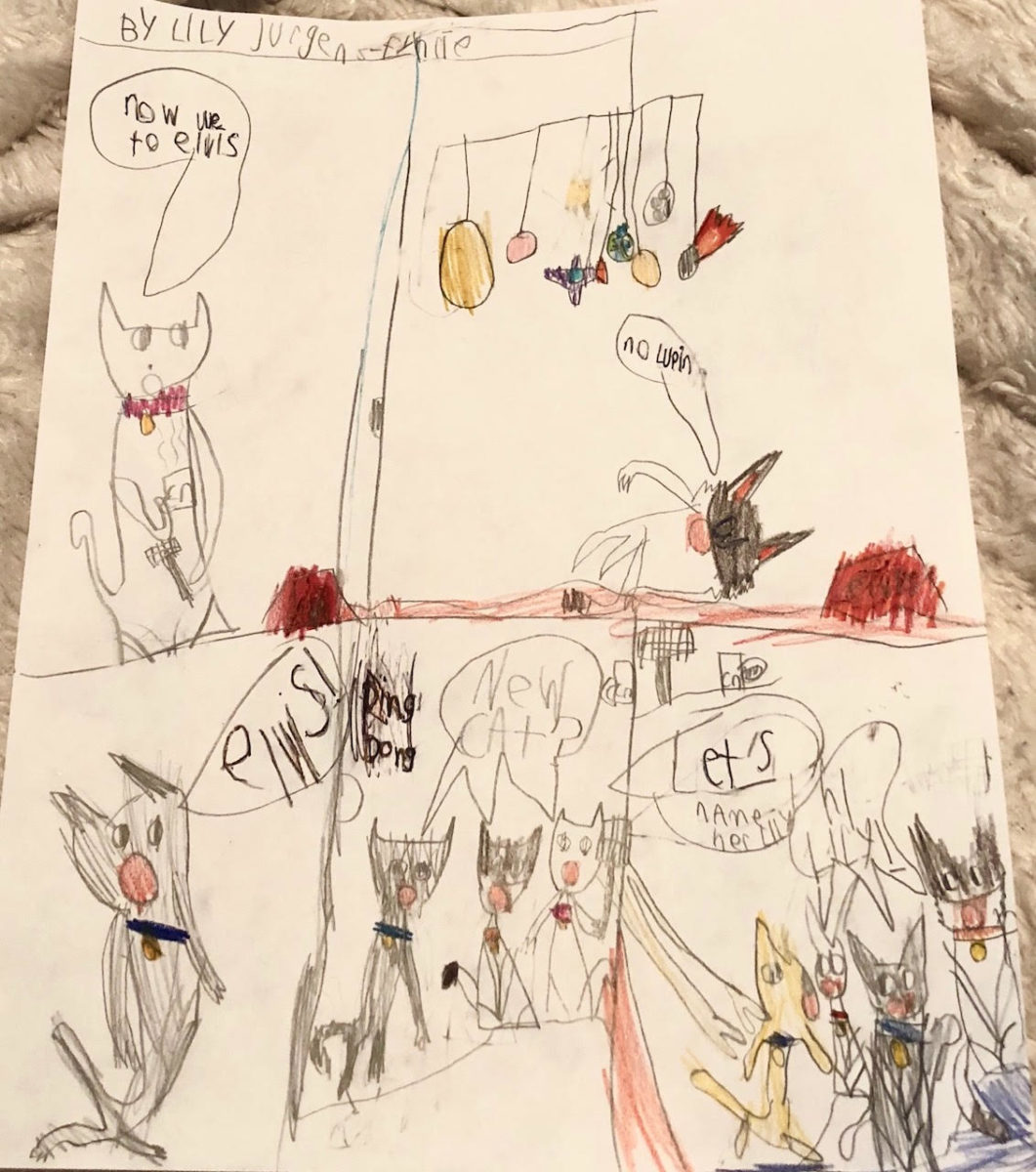 Astrid Dietzenschmidt of Astriddigipainting has created this beautiful digital painting inspired by a recent photo of our very own Puck! Thank you for sharing this with us, Astrid! This is so pretty and peaceful! You can see more of Astrid's work here: https://www.facebook.com/astriddigipainting/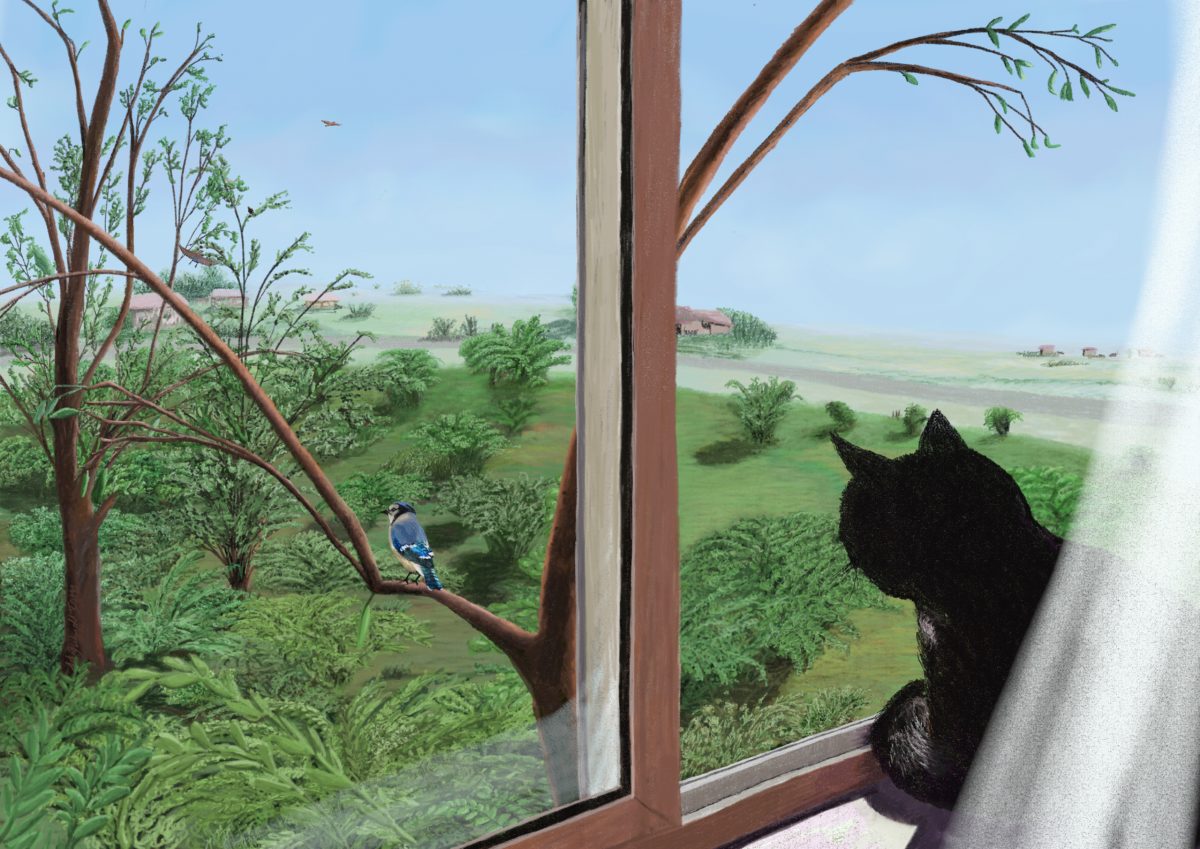 We have our first piece of fan art in the form of poetry! John Cerutti sent his poem in, and it is lovely. It brought me a warm smile when I read it. Thank you, John!
"In the quiet old pink house which holds the boys within
That speaks a thousand voices from the past and bygone years
Is truly where their story begins
Where they laugh cry chase and twitch their little kitten ears
In each corner there's a story through each window rays of new days hopes pass
Each day they make new memory's
And friendships (though some deemed improbable) That will last
The mornings filled with coffee
and tired little eyes
That seek new days wonder
And adventure in disguise
The boys are always there to keep us up to date
on discoverys sightings and plants elvis shouldn't have ate
On the grounds and surrounding yards are friends a plenty who live life their own way and deal with there own past scars
Though few have gotten what they sought after
They all have something to offer like hope help or laughter
The nights are filled with races and celebrations under stars so bright
OR thrilling TV mysterys "the aunt did it, am I right"
In the winter they are cozy under warm fuzzy blankets
While outside fall sky pieces which will Surely stop in minutes
Springs the arrival of birds and sunlight squares
and reports from Tommy on outside affairs
The summer is the bookstore where Beatrix climbs so high
It brings the July bug and noisy colors exploding in the sky
The fall is for puck, they even have a Holiday for him!
He can even display he's tough when fighting the leaves… he always wins
The world their in is simple
The friendships they hold are true
And when we grow old and wrinkle
We'll forever have these storys…and that we owe to you."
Young reader and aspiring cartoonist Gia Jurgens-Fyhrie sent in this remarkable scroll of a comic featuring the boys meeting a kitty named Gia! Here's a picture of the entire comic, with a few close ups. Thank you, Gia! I hope to be reading your comics in the newspaper one day!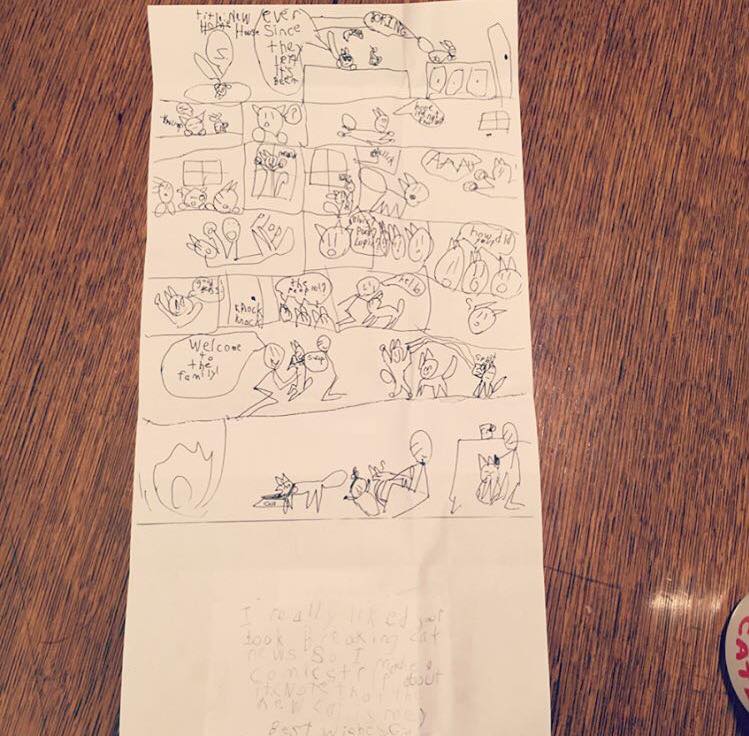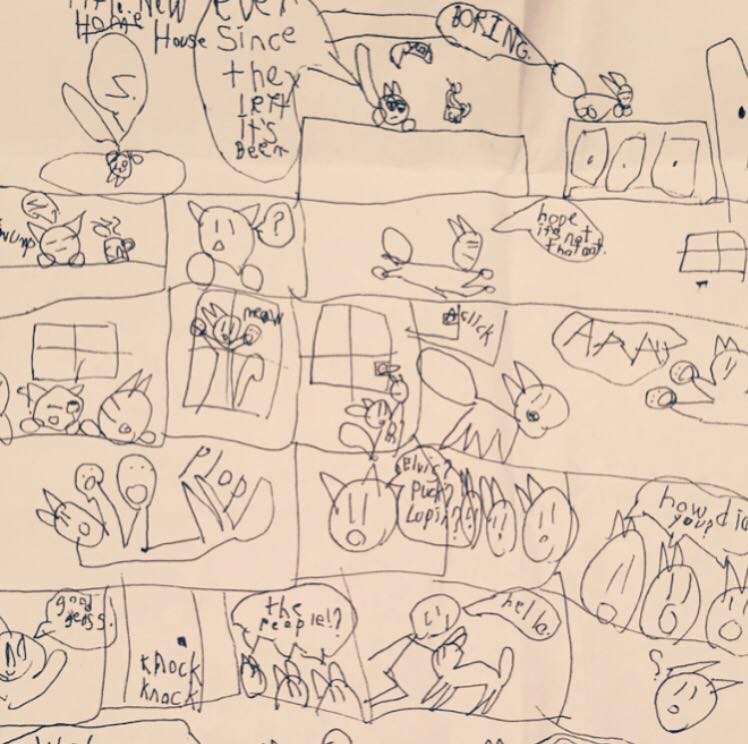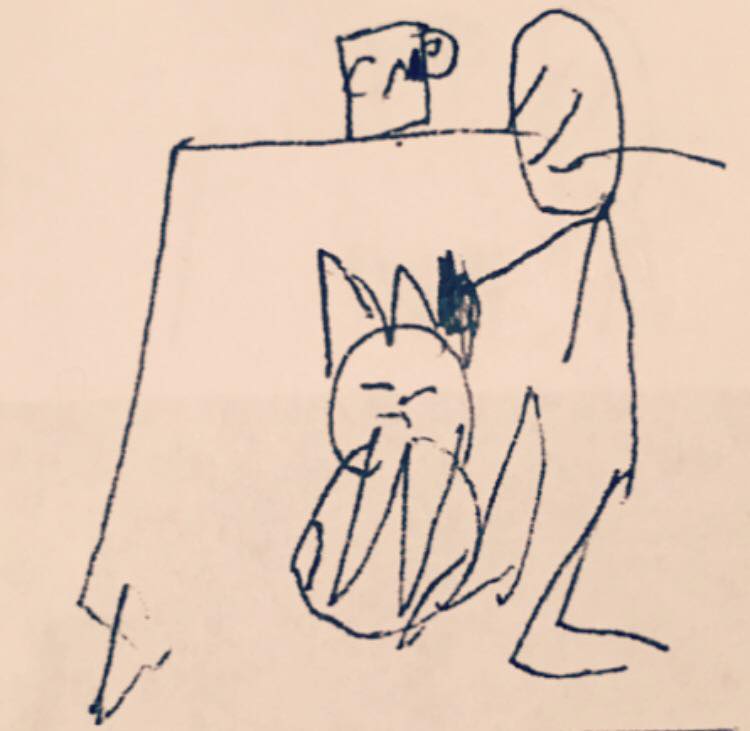 Breaking Cat News reader, 15 year old Beyla Bass sent in this great sketch of Natasha imagined as a woman! I love her spiked coat and how she is holding her needle-sword! (I wouldn't mind owning a pair of those pants, either). Thank you, Beyla! I hope you keep drawing and dreaming up cool ideas like this!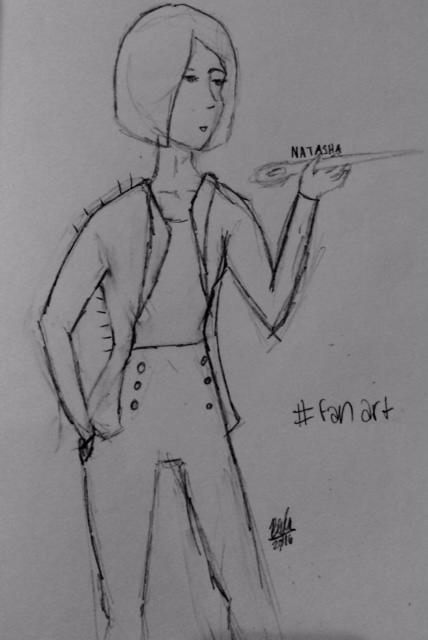 Tabitha Rosenbalm sent in this photo of a pumpkin she carved of the BCN crew! Ahhh!! I love this time of year so much! Thank you, Tabitha, I love it!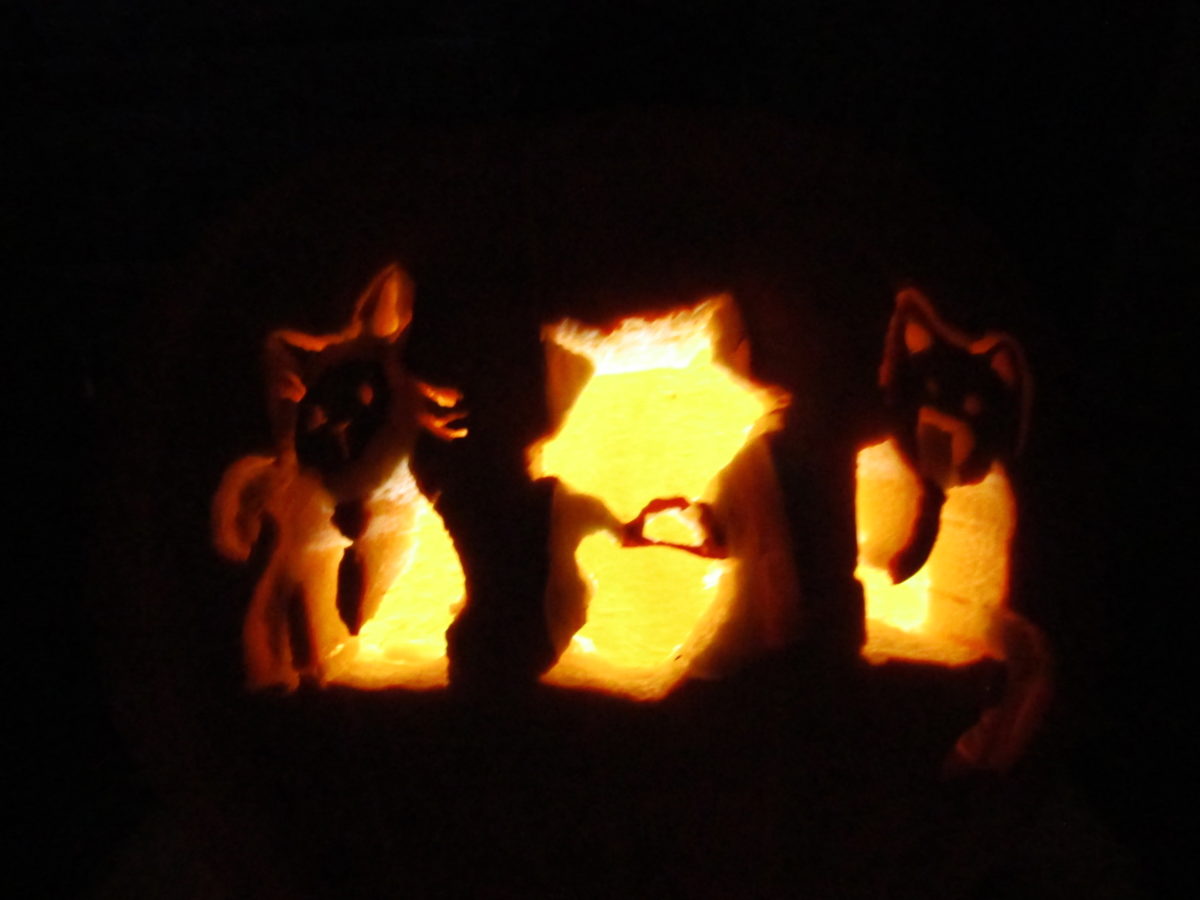 When last we heard from Janene Grace, she had just created beautiful plushies of Elvis, Puck, and Lupin! Well, she is back, and better than ever because she just made TOMMY!!!
Look at him!! He looks so fluffy and fabulous! Thank you for sharing him with us, Janene! (I love all the details, but the pattern on the shirt especially makes me so happy!)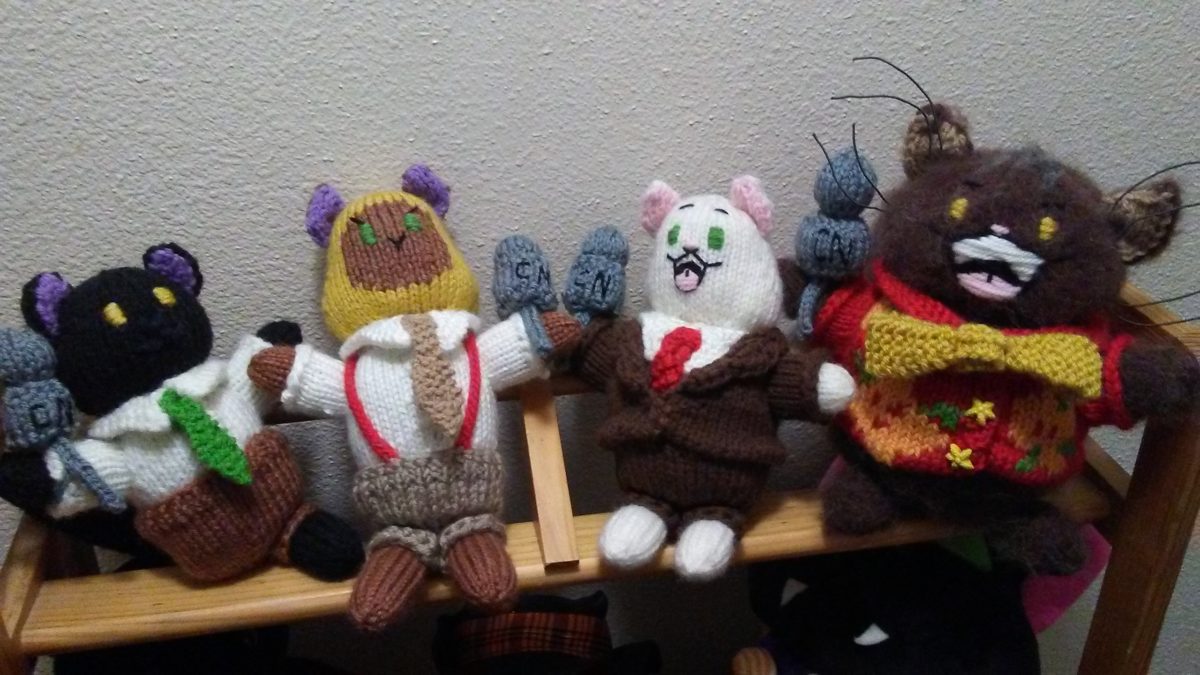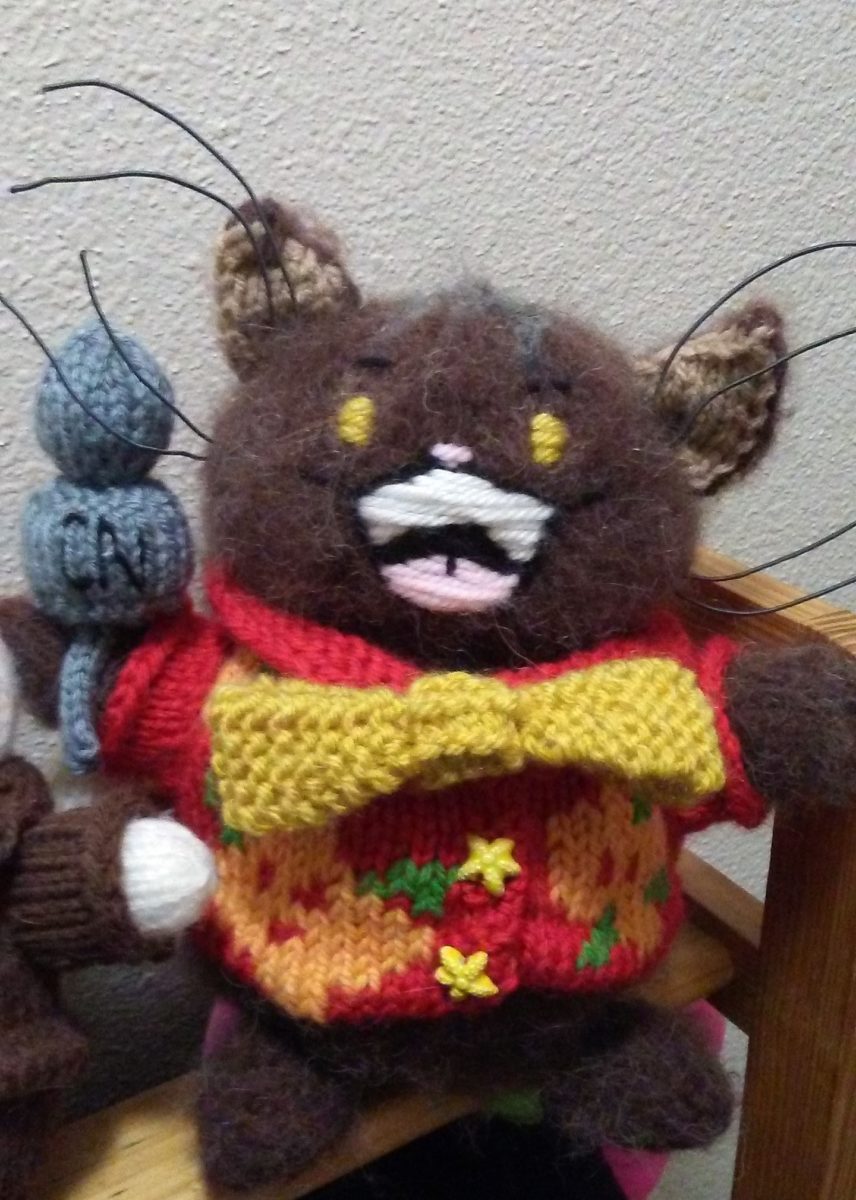 This adorable drawing of Puck and Buzzy Mouse was created by Alyssa Cash! I laughed right out loud when I saw Buzzy's little matching suit–too cute! Thank you, Alyssa! They look great!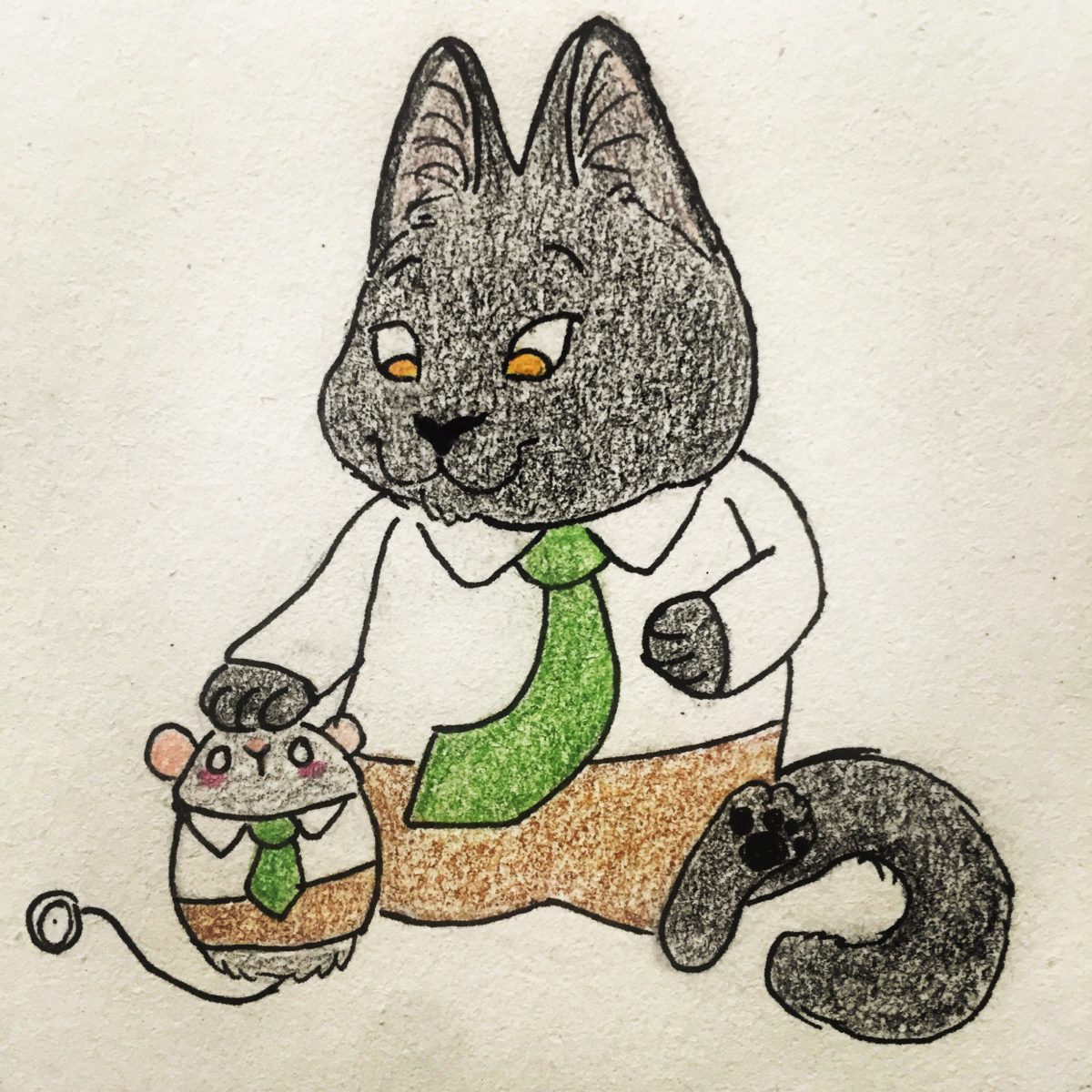 I love to sew and embroider and make dolls myself, so I really love the rare occasions when someone shows me fan art they have stitched together! Janene Grace sent in a photo of these 'Breaking Cat News' plushies she created for herself! Aren't they FABULOUS? I love the little details–Lupin's smile, Elvis' eyebrows, Puck's one foot. And Lupin's little button! They even have little microphones! She tells me she is working on Tommy next. These guys demand to be hugged! Amazing, Janene!!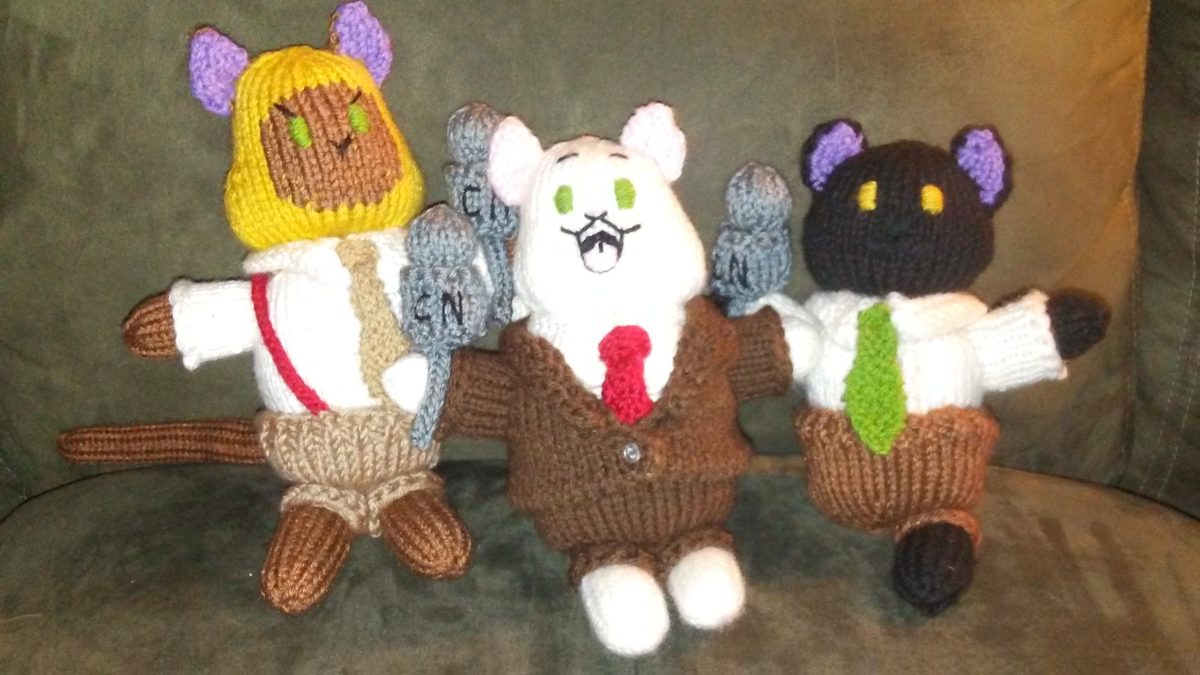 Masha Kovalova sent in this wonderful watercolor of the BCN crew as people! Each boy is there, along with his kitty counterpart. What a great idea, look at how she captured their personalities! (I adore them all, but I have to say, I think Puck is my favorite!)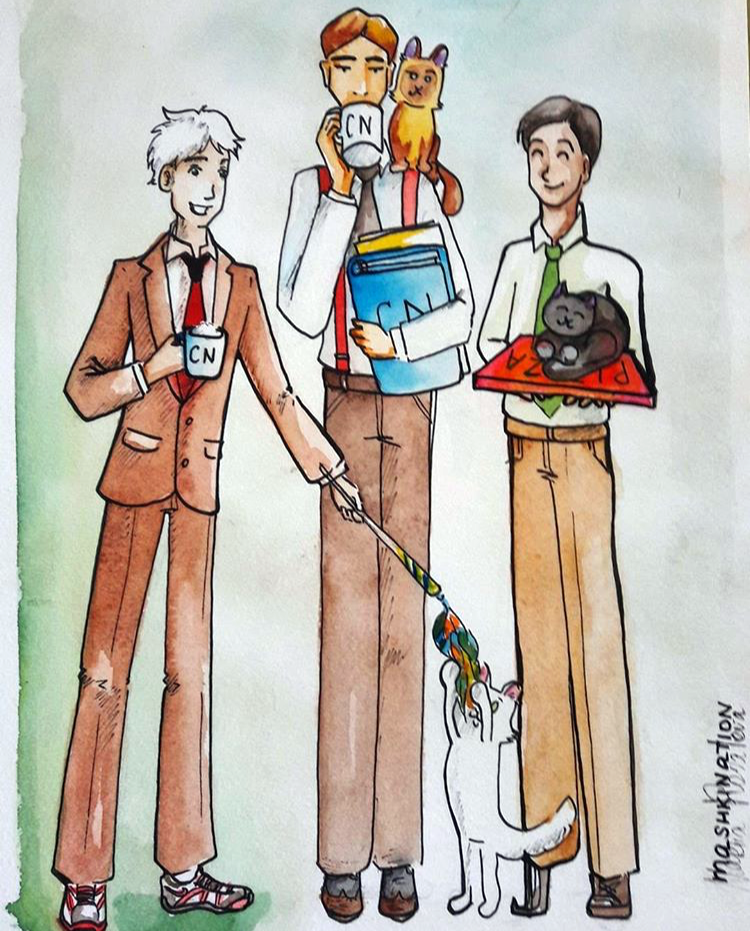 Matt Nelson of 'Catbeard the Pirate' did this fabulous rendition of Wicket!! I think he captured his suave smarminess perfectly! Thank you, Matt! He looks great!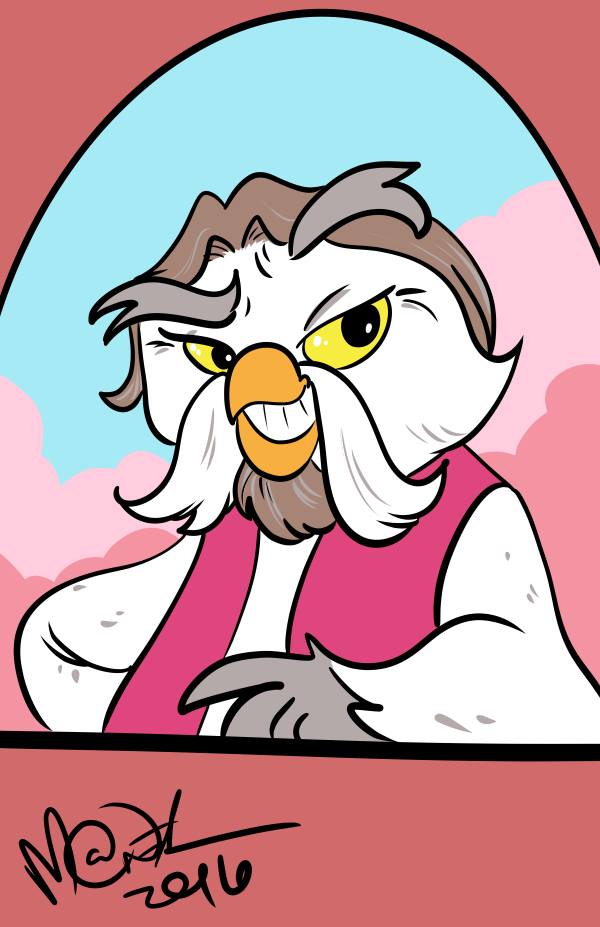 We have a new fan art strip from Irene in Kazakhstan! Thank you, Irene! Simba is back with a new report for us about People and baths!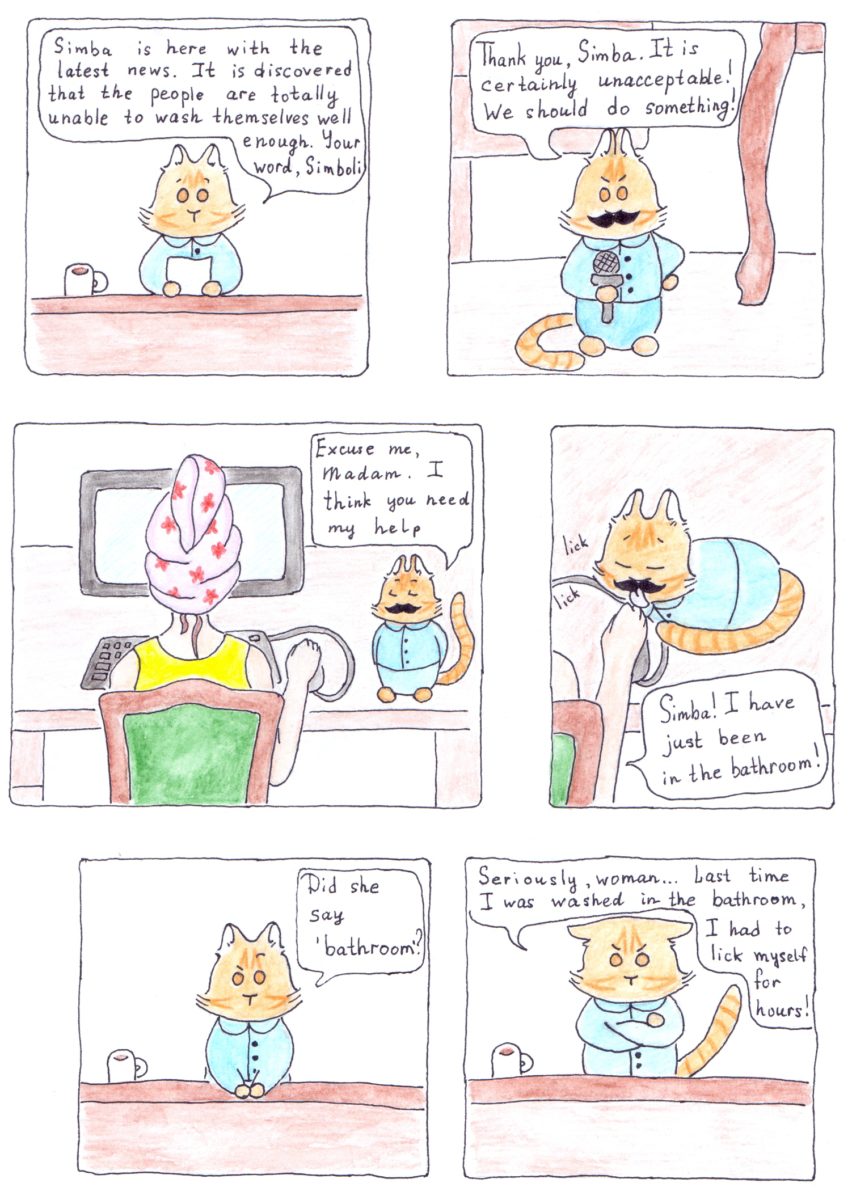 These next two pieces of fan art are very dear to me, because they come from my own cousins! 12 year old Brayden Schuster drew and painted Elvis at his desk! That's a great use of watercolors, they are not easy! I love how he included some lines for text on the paper in front of Elvis. And 10 year old Skylar Schuster drew and colored Puck! How cute does Puck look waving to the camera? I am so proud of these two! I was just about Brayden's age when I started to learn to draw, and I am so delighted that he is using watercolors. Many thanks to my cousin Cindy (their Mom!) for texting these to me, and thank you so much Brayden and Skylar for creating these drawings and letting me share them here!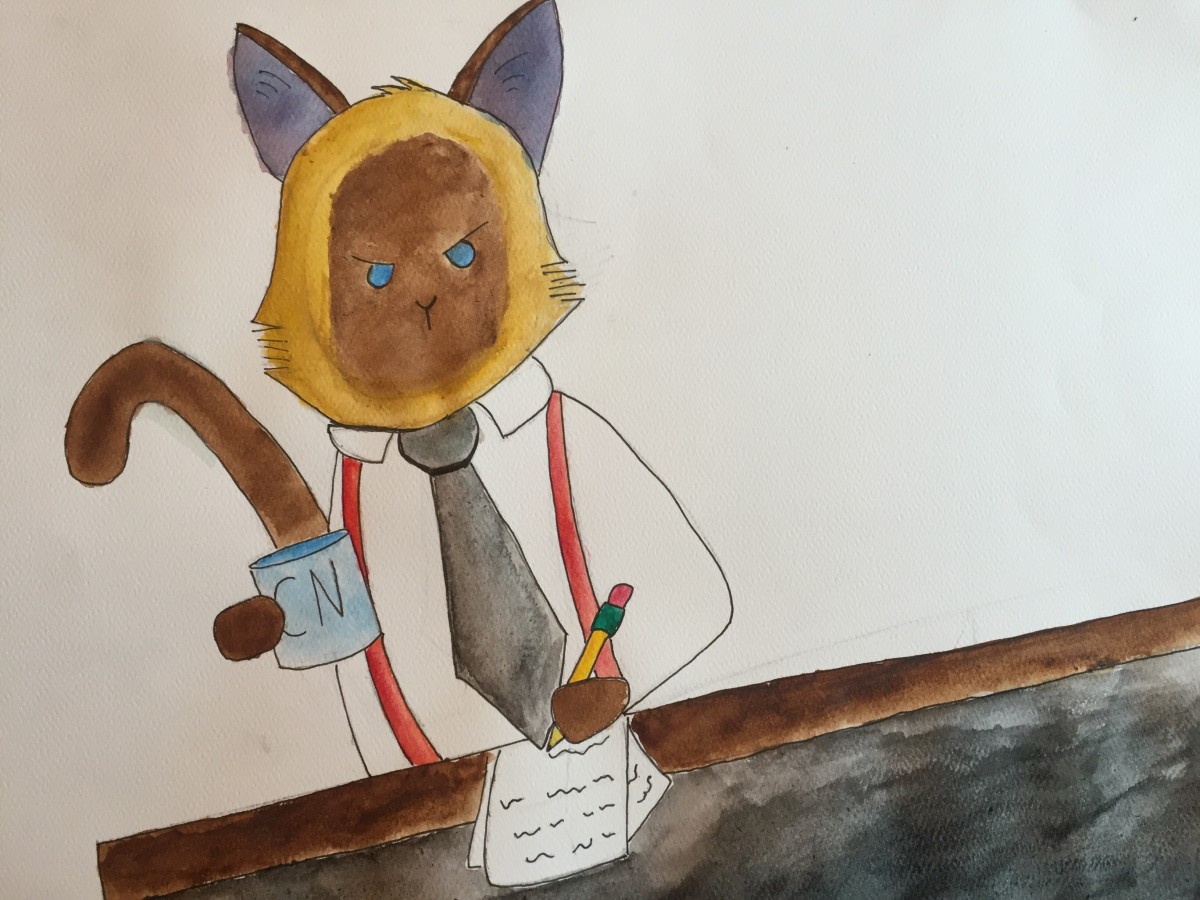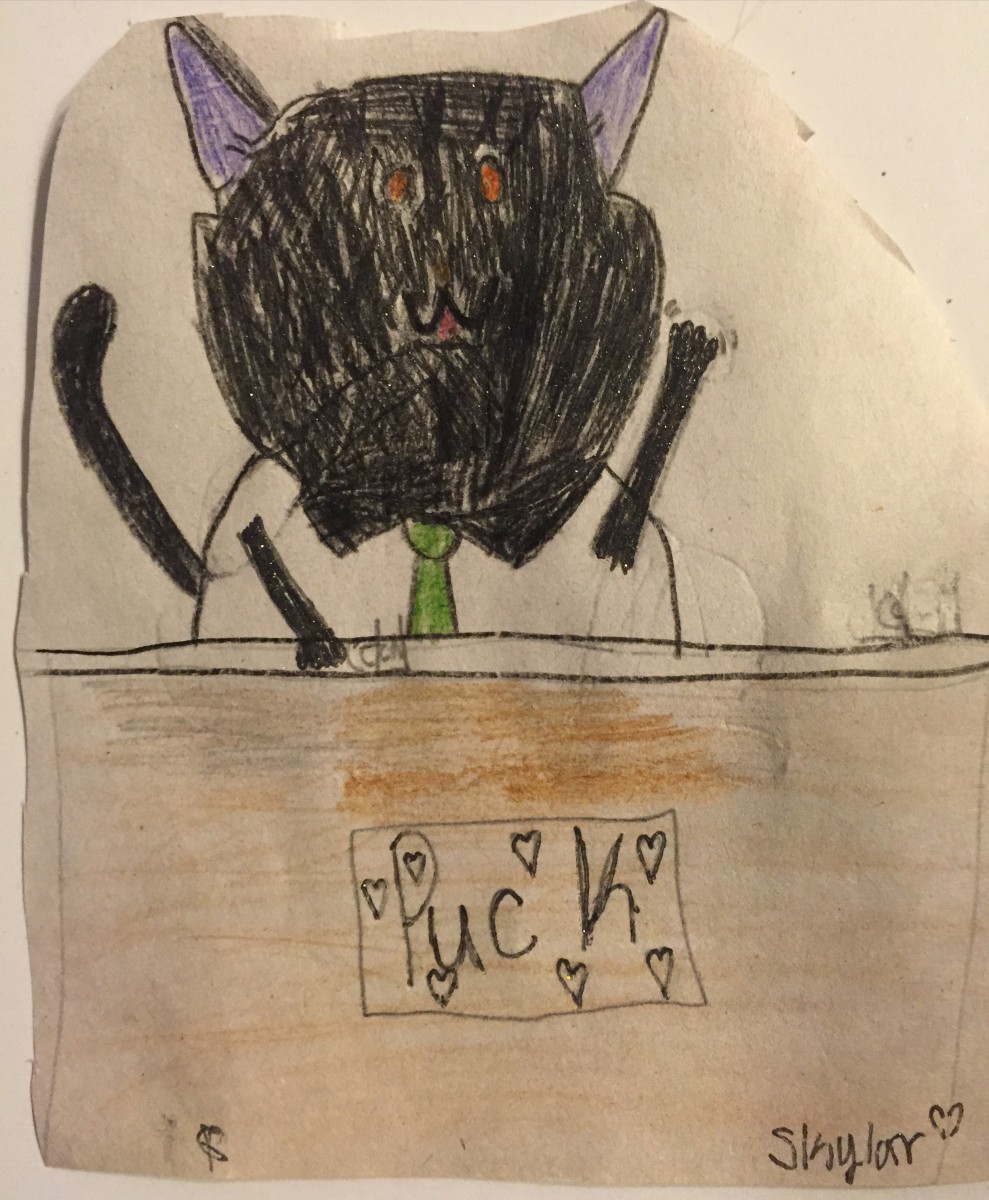 Each spring Marjorie Rishel decorates Easter eggs with her favorite webcomic characters! This year she included BREAKING CAT NEWS' own Elvis and Beatrix on an egg! You can view her entire 2016 Easter egg gallery here!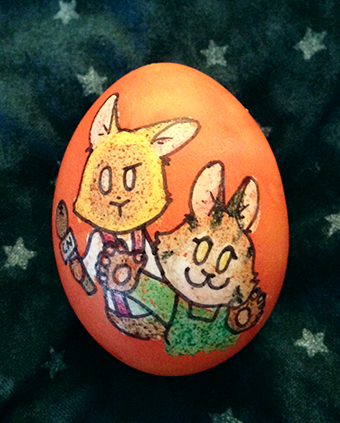 This strip comes to us all the way from Kazakhstan! Irene from Kazakhstan wrote and drew this strip, based on her own cat. At the time her cat Simba was an only cat, and so she wrote a strip where one cat is masquerading as many in order to pull off their own broadcast! She apologized for her English, but I think she did a great job here! It's so funny and cute, thank you Irene!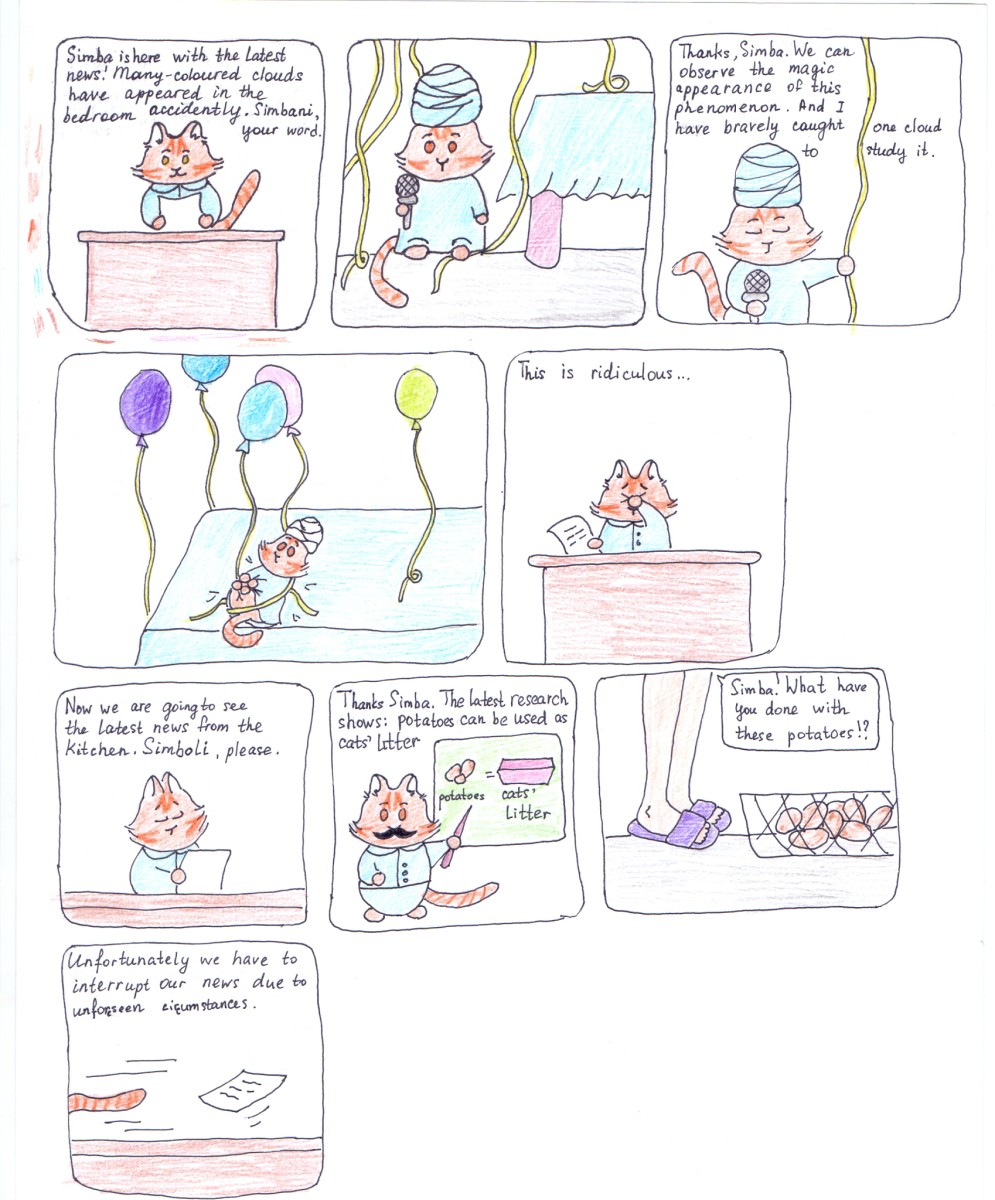 This piece was created by Jenny Lewis. It originally popped up in my Instagram notifications, and it made me SO HAPPY! Later, Jenny sent it in for the fan art page. Isn't this wonderful? I love their whiskers, in particular! Thank you so much, Jenny!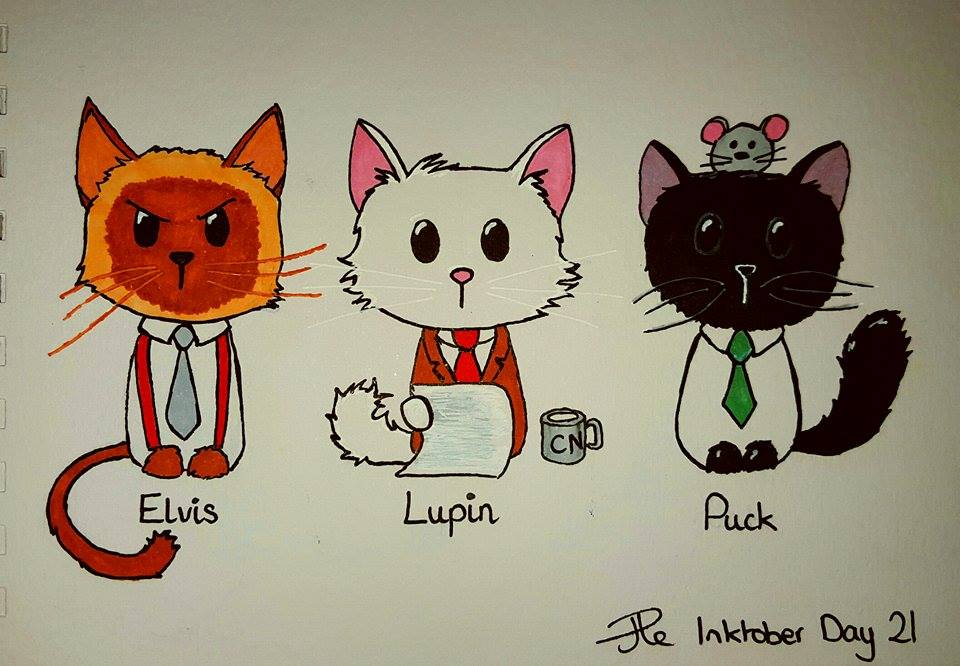 This strip was drawn and written by 10 year old Abigail Rose! I am blown away by how well written and plotted out this is for a cartoonist who is only 10 years old! Abigail obviously knows these characters so well. That she would think to add Lupin sneaking out to be a part of the action–such a perfect detail, I love it. Keep up the amazing work, Abigail! You are a natural writer (and cartoonist! Writing is usually the hardest part though, and you've got it down!)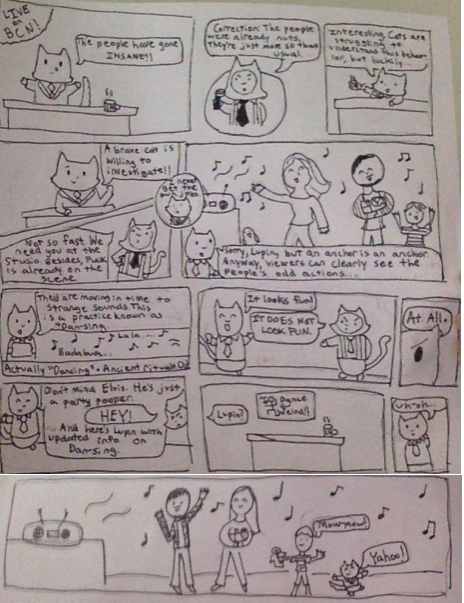 This wonderful portrait of Pucky watching the rain is titled "Rain is a Symphony," and was done by Kathryn Zimmerman. How gorgeous is this? I absolutely love this piece, thank you SO MUCH Kathryn!!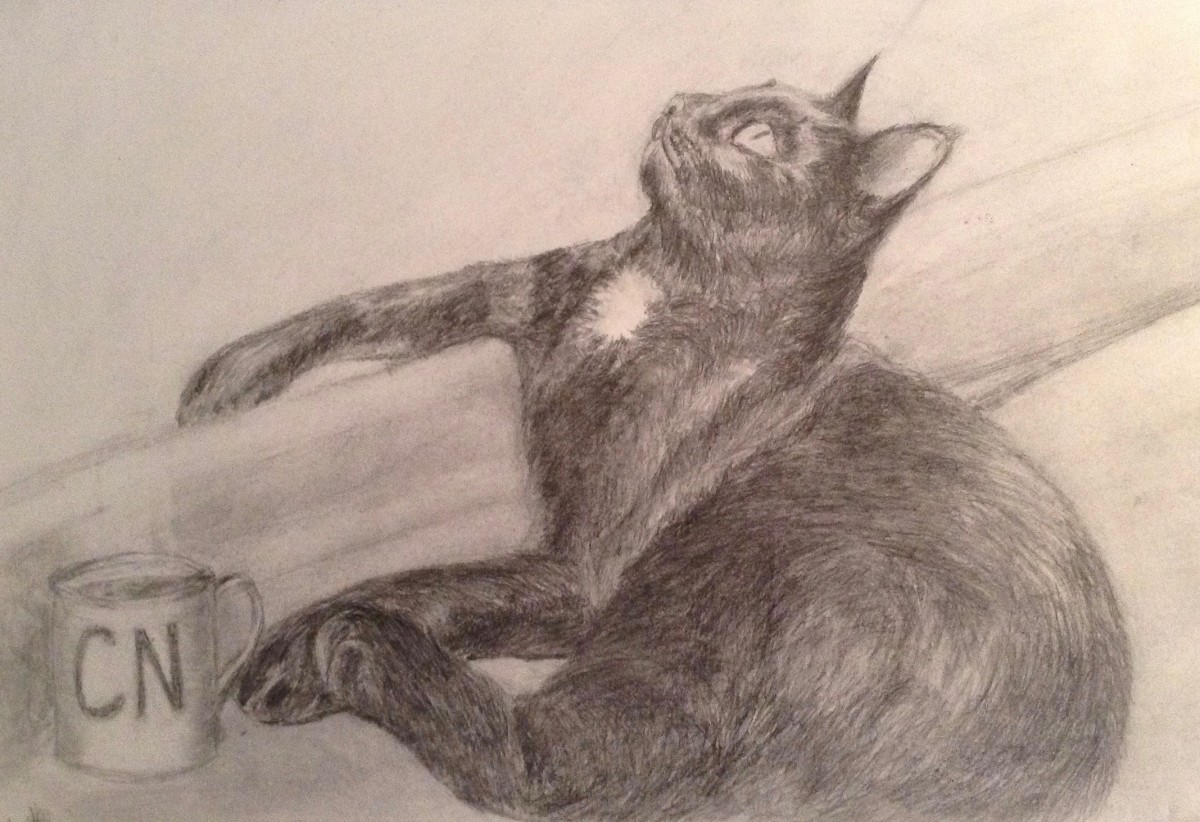 These pictures were drawn by 7 year old BCN fan Catherine, and sent to me by her Aunt Megan Naughton! I love Catherine's attention to detail. She's included Buzzy Mouse, the CN mugs–even Sophie reading a book! My favorite has to be Baba Mouse. She's done a great job capturing each of the characters here, I hope so much that she continues to draw and thinks about being a cartoonist one day! (Catherine's Aunt Megan added the captions at the bottom 🙂 )

These two marvelous fan strips come from one of our young readers, Edward Tsai! Edward's mother Andrea sent this set of strips in and it made me so happy! Andrea explained that this is how Edward introduced his "west coast correspondent," their cat Berlioz. 🙂 This is exactly how I spent much of my own childhood; I was just delighted to read these strips and see Edward's artwork. I think he already has a great sense of pacing the story in the panels and leaving a good cliffhanger! Well done, Edward!!! Keep drawing comics, you're a natural!

Charlie Boatner sent in this comic of the boys at the Breaking Cat News morning desk! You can check out his webcomic 'Bureau of Beasties' here! Thank you, Charlie!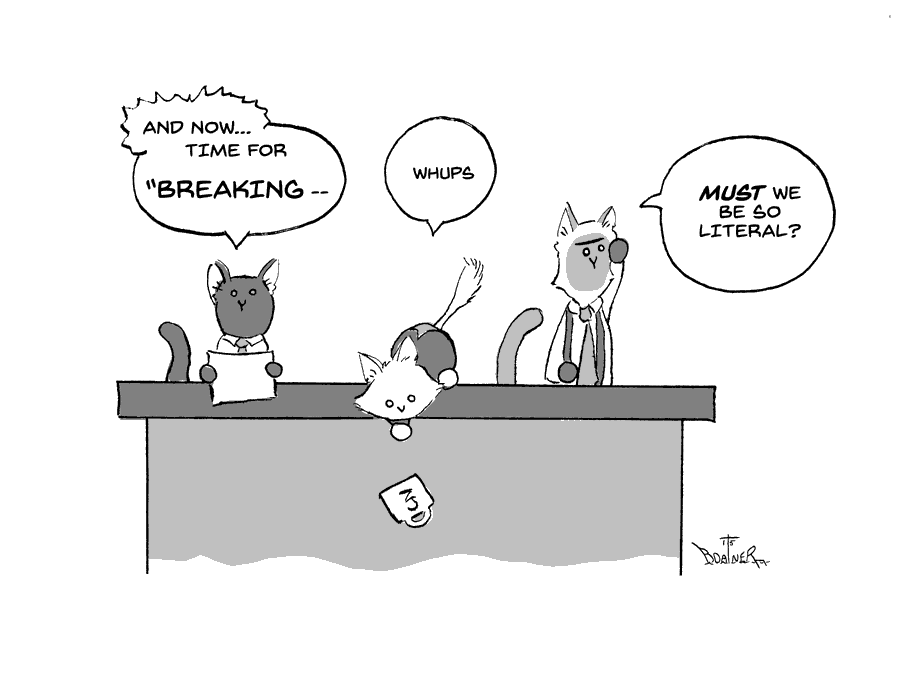 Craig Schlechter sent me this illustration of the boys, and I need to shield the screen from Lupin to keep him from getting any ideas! I think he would love to do this in real life. 🙂 Thank you so much, Craig!! You can find more of Craig's art at Schmuck of All Trades.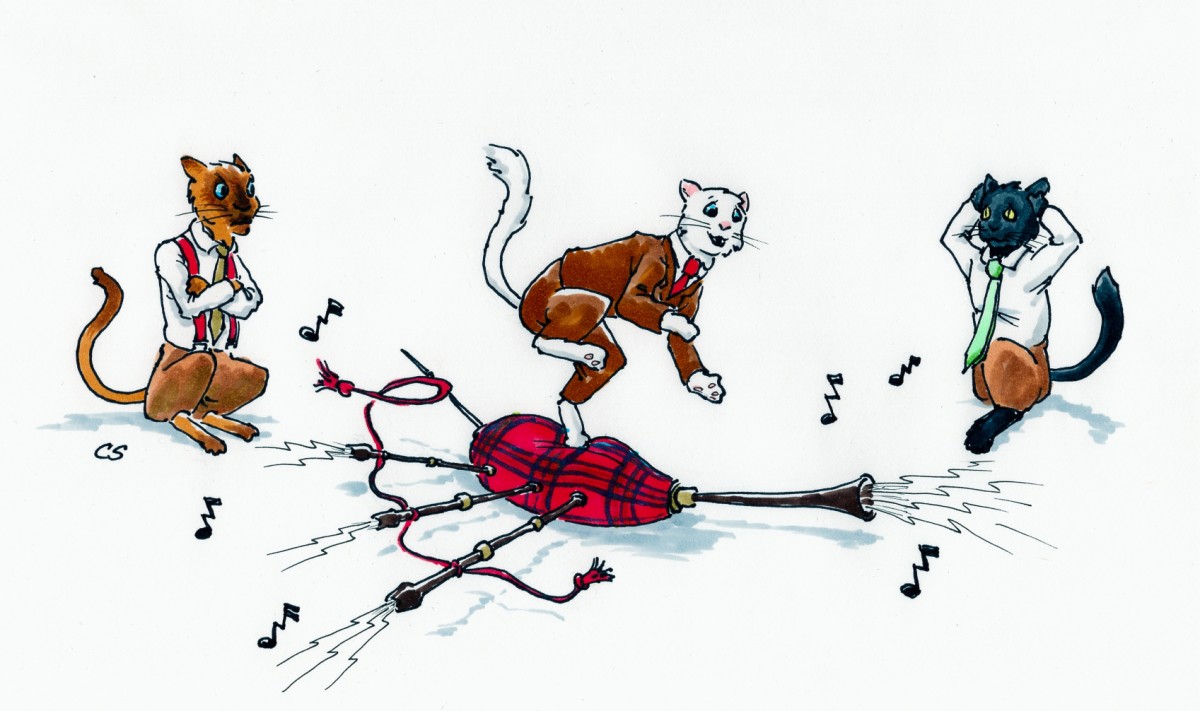 Inspired by The Man and I trying to get through the new 'Silent Hill' playable game trailer (and failing miserably–so creepy! So good! Someday!) friend and creator of Catbeard the Pirate, Matt Nelson, has made this fabulous strip! And today just happens to coincide with the four year anniversary of Catbeard the Pirate! Check it out! Thank you, Matt!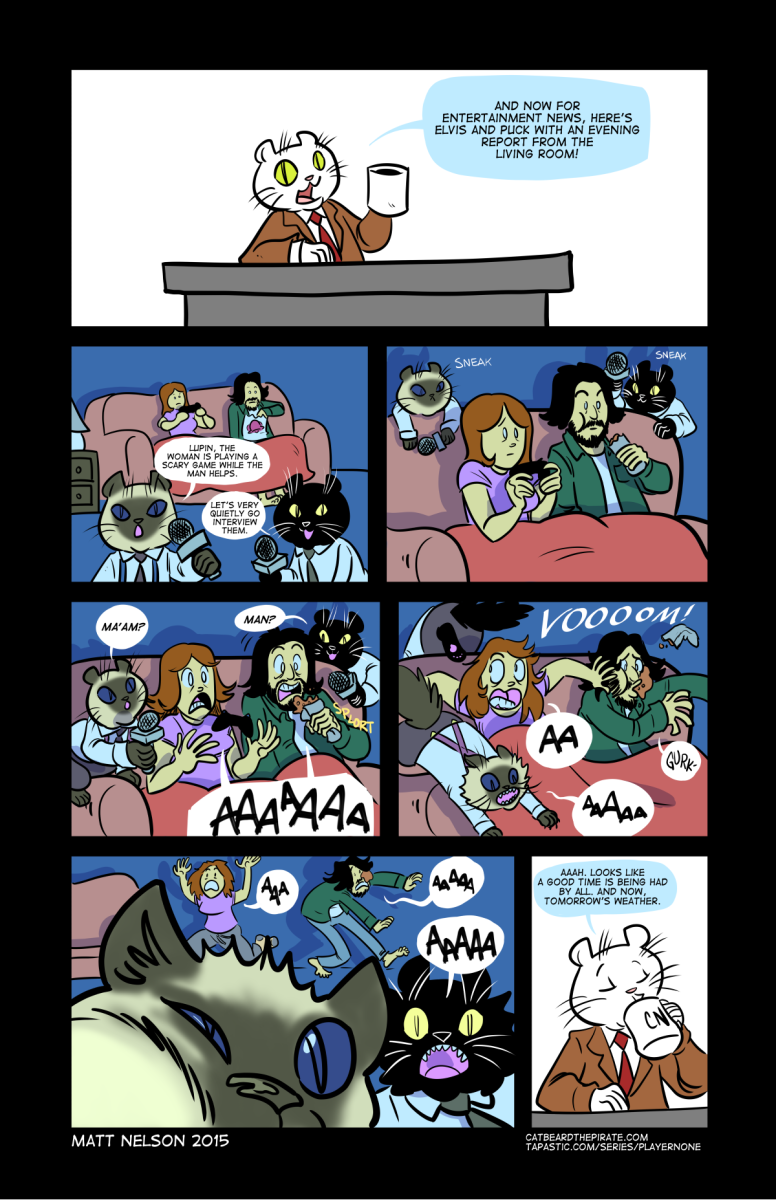 In honor of the 100th strip, friend and BCN fan Kriangkrai Buapetch has whipped up this adorably fuzzy piece!! Thank you, KK!!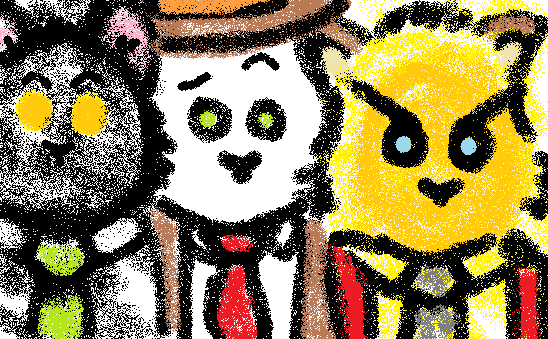 Awesome Catbeard the Pirate cartoonist Matt Nelson created this excellent poster for Lupin's adventurous tumble into the laundry room! (Kinda freaking out, I love this so much! Thank you, Matt!!)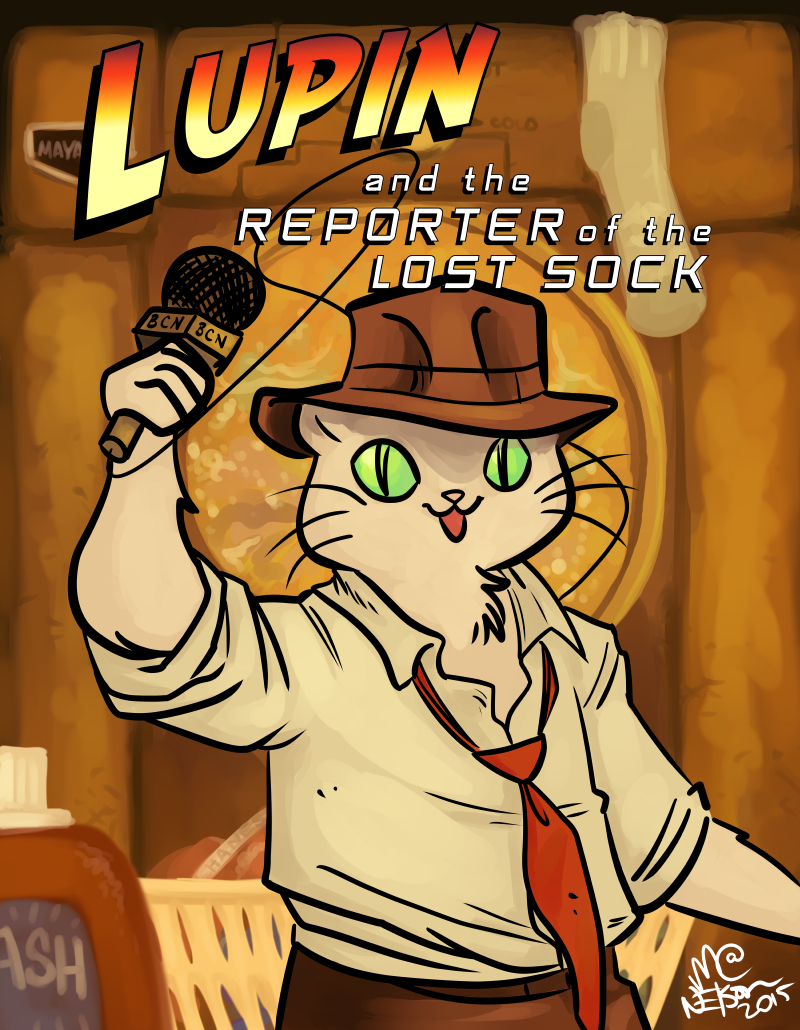 Joshua Taton has sent in this sweet strip featuring his cats Tanuki and Doom!

Kriangkrai Buapetch has done this super cute tribute to everyone's favorite neighbor, Tommy!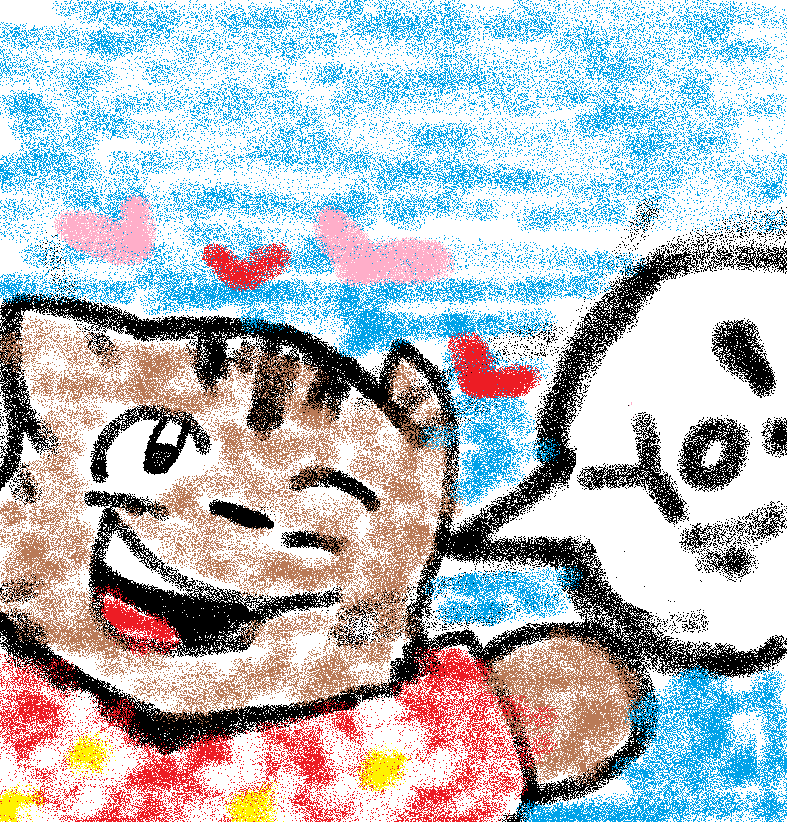 Eric Liggins has sent in an excellent digital fan art piece of the boys! You can see more of Eric's artwork by clicking here.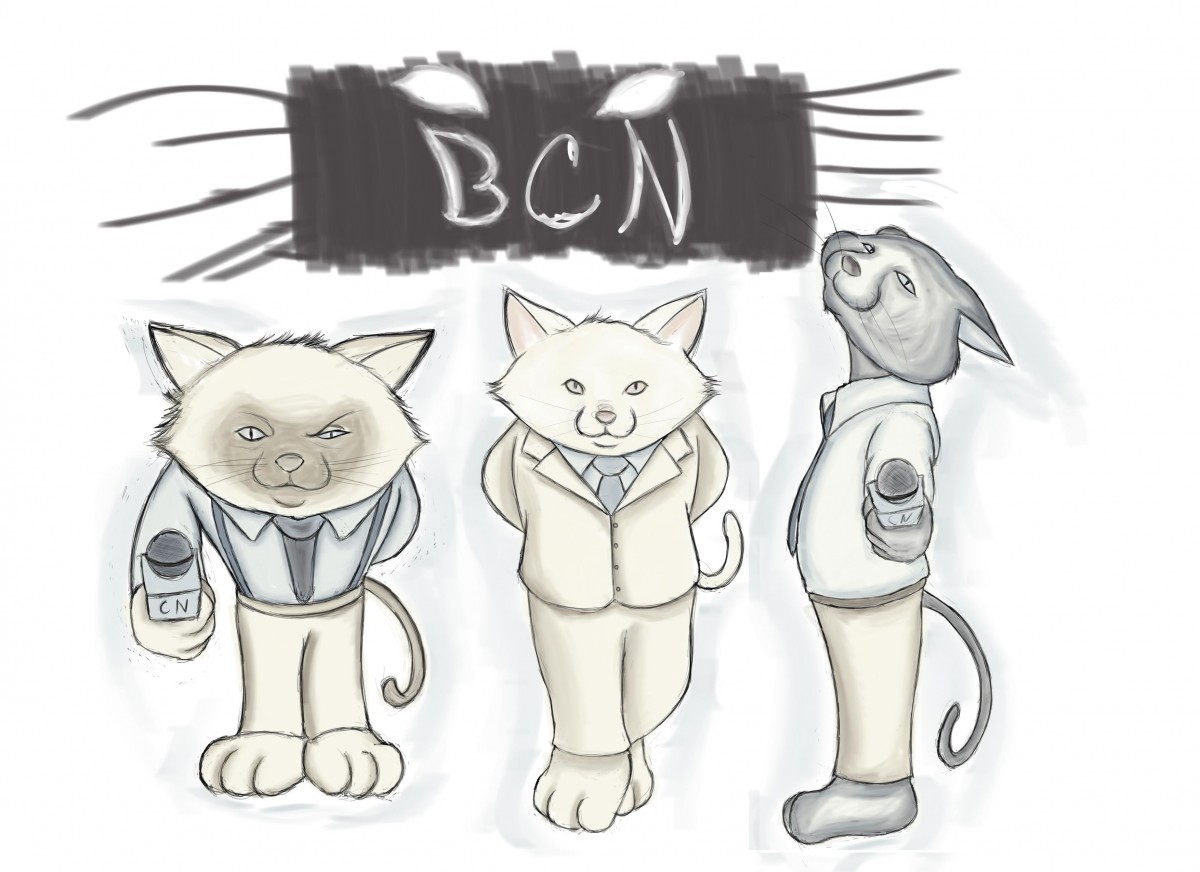 A fan comic drawn by the very talented Mr. Matt Nelson of Catbeard the Pirate!